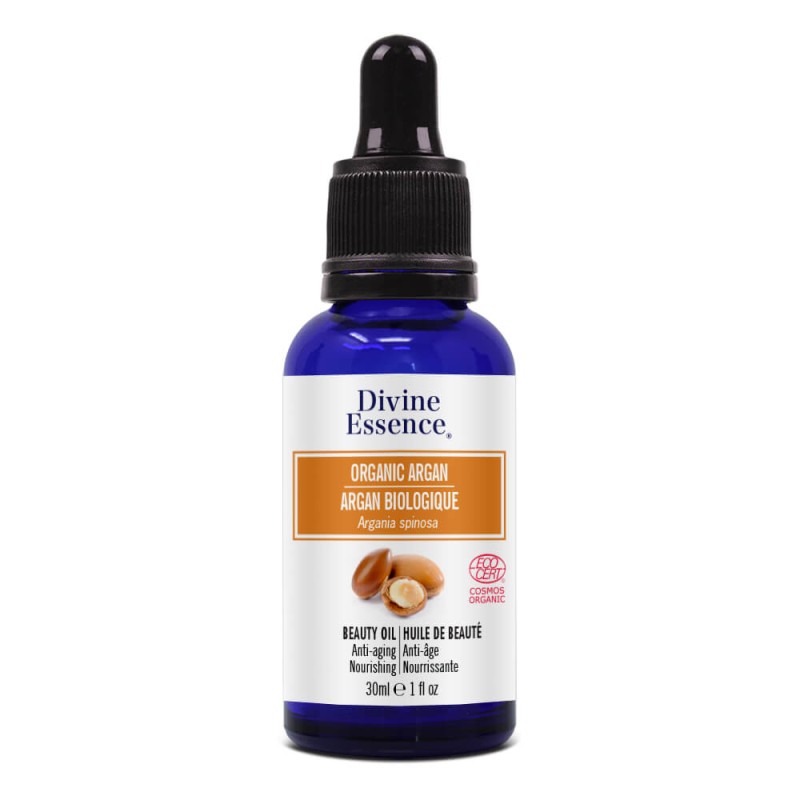  
Organic Argan Oil - 30 ml
Regenerating and healing with more than 75% unsaturated fatty acids. Very nourishing, firming, softening and anti-aging. Argan beauty oil is rich in vitamin E and sterols, antioxidants that protect the skin against external aggressions (sun, wind, cold). Moisturizing, regenerating and repairing, it is particularly adapted to dry, dehydrated and devitalized skin for its repairing and nourishing properties, but also to mature skin for its firming and antioxidant action, helping to fight against the signs of aging.
Prevents and reduces the appearance of wrinkles. Nourishes and improves skin elasticity. Fortifies nails and hair. For all skin types.
16 other products in the same category:
Brand: St-Francis herb farm
Enhance your digestion with this Sweet Annie Tincture. • Bitter tonic to enhance digestion• Anti-parasitic properties• Immuno-regulatory• With powerful active ingredient artemisinin
Brand: Quai Des Bulles
Tones, remineralizes and softens skin. Reduces the appearance of skin blotches and revitalizes dull skin.
Brand: new roots
Femina Flora delivers 10 billion probiotic cells per ovule, which temporarily modify vaginal flora to create a favourable environment for the growth of a healthy vaginal flora.
Discover a refreshing skin oasis with our daily moisturizer. The humectant duo of Hyaluronic Acid + Mango Butter found in this cream absorbs quickly, moisturizes, provides weightless hydration and refines your skin with no sticky after effect. Give your skin the treatment it deserves leaving it with everything plus the glow.
Use Menstrual Tonic if you're a woman and need to address key symptomatic issues related to menstruation, including premenstrual irritability, depression, bloating, as well as painful periods.
Brand: Divine Essence
Purifying and balancing beauty tonic. Lavander floral water hydrates and restores skin balance. Protects the skin's moisture barrier from dryness caused by sun exposure.
Brand: land art
99% pure Aloe vera juice with natural flavor. Aloe vera juice is an excellent source of antioxidants and is used in herbal medicine to help relieve irritation and stomach problems.
Traditionally used in Herbal Medicine as a mild sedative and/or sleep aid and as an analgesic.
Reference: New roots
Brand: new roots
New Roots Herbal's Ultra Zinc is formulated with ʟ‑taurine, B vitamins, and nutraceuticals, which enhance assimilation of this critical trace element in human nutrition. 90 caps.
• For digestive problems• Stimulates bile flow and improves digestion• Diuretic
Support your heart health with this Hawthorn Tincture. • A classic antioxidant that aids cardiovascular health• Increases cardiac output by improving the heart's muscle tone and vascular integrity• Excellent circulatory tonic
Used in Herbal Medicine:• As a hormone normaliser to help stabilize menstrual cycle irregularities• To help relieve premenstrual symptoms• To help relieve symptoms associated with menopause, such as hot flashes
Land Art's Cal-Mag helps with the development and maintenance of bones and teeth. It also supports the proper functions of muscles with the added zinc, silica and vitamins D & E. This formula is particularly recommended for people under the age of 50. For those over the age of 50, the Ionic Cal-Mag formula is more appropriate.