To our clients,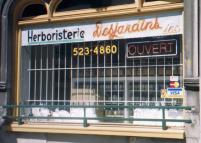 As a young woman in the 1930's, Renée Bleau Desjardins learned from Joseph Desjardins, her father-in-law and founder of Herboristerie Desjardins, how to prepare herbal remedies derived from plants native to the Laurentian region of Quebec.

In the 1940's, Renée Bleau Desjardins took over Herboristerie Desjardins, becoming a pioneer in the importation of herbs to Quebec. Today, Herboristerie Desjardins stocks more than 500 high quality herbs imported from the four corners of the earth.

As a herbalist shop serving customers for over 70 years, we offer you specialized herbal recipes, and can respond to your most specific herbal requests. Our many customers can attest to the beneficial effects of our traditional herbal remedies.